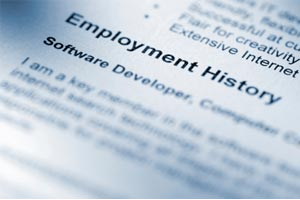 Your resume is a vital marketing tool as it tells your story in a way that makes potential employers want to meet you. Having a well-designed resume is important in the modern competitive job market as it helps you stand out from the crowd.
If you need to breathe some new life into your work history to get a new job, there are some tips from our Australian resume guide that you can try.
Your professional life is more than the text on your resume and it is important that you reflect your uniqueness and creativity. Take a look of yourself from the perspective of a marketer and highlight all of your selling points in the resume. You should also consider adding a photo or a sample of your current work. Colors should also be used to make the resume pop and reflect your brand.
Your resume should be as short as possible while still highlighting important aspects of your career. Listing your employers and accomplishments can leave a lot of unused white space. A column layout can make use of this space and add some organization to the information. One of the ways that you can fit all of the information you need to in a visually appealing manner is to use an infographic approach.
Your most impressive clients and the best work you have done needs to jump off the page. You should not wait for the reader to stumble onto these achievements as they read through all the text. One of the ways to highlight this will be a sidebar that lists your success and achievements. Having a call-out in the body of the resume will also break up the text and draw the eye of the reader. This is particularly important when you consider that most resumes will be scanned and not read in detail.
If you work in a creative industry, you should not have an outdated resume design. Flat and colorful designs are trending at the moment in most types of design from apps to websites. You need to use your resume to tell the potential employer that you know what the current trends are and that you can make use of them.

Use The Right Orientation
There are some professions where changing the orientation of the resume from portrait to landscape will help you stand out from the crowd. There is nothing that highlights a designer's eye like flipping the standard. Of course, this will not work with all industries.

Be Ready For Different File Types
​ You need to have a copy of your resume available in a few different formats. Word and PDF are the most common file format used, but there are some companies that use other file types. Some companies will ask for your resume in a text file.
There are times where you feel no-one is going to read your cover letter, but you should still include one. Hiring managers who read the cover letter are the ones that care about what it has to say. This is why you need to make the cover letter different for every job you apply for. The cover letter should have a more personal tone and cover all the important information in your resume. The cover letter will also be a statement about your approach to your job search.

The Right Template Is Vital
You need to use the right resume template. This can make the difference between landing an interview and being at the bottom of the list.